We may earn money or products from the companies mentioned in this post.
Welcome to day 20 of my
blog challenge
I can't believe the month is coming to an end already.  This post is a hard one for me because it is to share a secret. I am so open and really don't have any secrets also I'm kind of boring so there aren't really many secrets that I have.
 So here is a secret I can think of. I am a big fan of reality TV and even though people judge them I am a fan of both the Kardashians and the Duggars. I get that both families make decisions that not all families would choose to make and I don't agree with everything that either family does. That doesn't mean that I can't think that they are good families and I find each of the shows enjoyable to watch.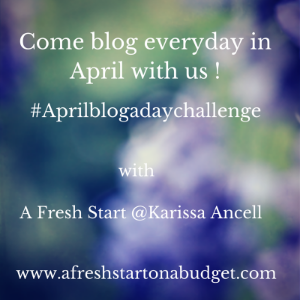 So now it's your turn to share your post, link up everyday in April
wouldn't it be amazing if my blog was big enough that i had companies pounding down my proverbial blog doors saying, "hey…we like you. here's our product to just giveaway to one of your readers." i'd be like…you bet, buddy. i'm your gal.
weeeeellll…no such luck.
instead…i get together each month with some super radical ladies to bring to you a cash giveaway. so far i've heard exactly zero complaints about this reoccurring giveaway, so i'm going to assume that we all enjoy throwing our hat into the ring in hopes of putting a little extra green in our clutches, wallets, diaper bags, etc.
which brings me to…you guessed it, the giveaway this month.
look at all those smiling faces! don't you love them? i thought so.
now go have a look at their blogs following the links below, and get entered to win your M U L A!
oh! are you thinking you might want to get in on some group giveaway action as well? or maybe you're just looking for your next super-fab blog to sponsor? i'm offering a discount on all my 
ad spaces
! how does 30% off sound? i like it. enter the word 
BIKINI
 for your discount!