We may earn money or products from the companies mentioned in this post.
Day 5 of Blog everyday in May. Today's topic is 

Publicly profess your love and devotion for one of your blogger friends. What makes them great? Why do you love them? If you don't have blogger friends, talk about a real-life friend or even a family member.
I'm not really close or friendly with any particular bloggers, mostly because I'm still working on how to reach out to other bloggers.  I want to tell you about two bloggers who I love to follow and what is so special about them:I follow a lot of bloggers, If you count up all my Facebook likes, Twitter follows, GFC, bloglovin and G+. It gets ridiculous. I couldn't possibly read everyone's posts I come across. I would be reading blogs 24/7. So these bloggers are special because if I see a new post from them I check it out right away because I con't want to miss it. 
1: Bonnie from : 

http://www.thelifeofbon.com/ What's so special about this blog was she just seems fun and so full of life. She has such a carefree attitude that it's enjoyable to read her posts. Sometimes you just need to read something fun and not to serious and for me this blog is it. It's sometimes a silly story or a funny picture but it's always a good time.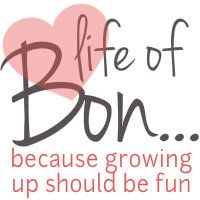 2. Neely from http://acompletewasteofmakeup.com/ Her blog has link ups each way which is a great way to find new blogs. She also has fashion and beauty stuff but not as much as fashion blogs, which overwhelm me because I have no sense of style. There is just enough on her blog so I can find out about a new trend or product with out feeling intimidated. She's also a great blog to sponsor. When I had my ad on her blog I got a lot of new readers. Also if you have a question she is really quick to get back to you, which is awesome. 
center>
This list could go on and on but I said two and am going to stop at two.