We may earn money or products from the companies mentioned in this post.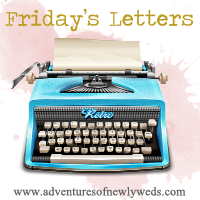 Dear heat,
 Please let up. I am not enjoying the temperatures being in the 90's and 100's
Dear Isabella,
Guess what baby girl if you would sleep more you wouldn't be so cranky during the day.
Dear dog,
You need to stop barking at everything and harassing the cats. You are getting on my nerves lately.
Dear school,
I hope you are a fun semester and not too hard.
Dear life,
This week has been a good one. Please keep it up.