We may earn money or products from the companies mentioned in this post.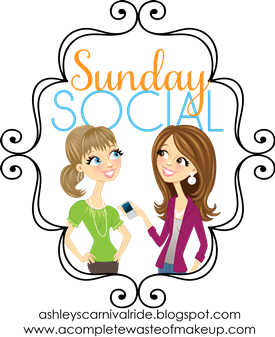 Today's Sunday Social is all about Twitter. 
1. When did you join twitter?
I started about the same time I started this blog last summer. I'm not a real regular on twitter and am not real familiar with it. 


2. Who is your favorite non-celeb to follow?
I get a lot of links to information about blogging by following @MelACulbertson
3. Who is your favorite celeb to follow?
I really like Judd Apatow @JuddApatow and Aziz Ansari @Azizansari (from Parks and Recs) I find them both to be really funny. I really only follow bloggers and celebrities so I follow a lot of celebrities


4. Have you ever had a celeb respond to a tweet?
Nope maybe someday


5. What is your favorite store/brand to follow?
Sephora
6. Give us three tweeps we should be following.
I real like following 
@livinginyellow and 
@Throat_Punch and @thelife of Bonn
and of course you should be following me @KarissaAncell Sunday Social-All about Twitter.