We may earn money or products from the companies mentioned in this post.
Last Updated on June 28, 2019 by karissa ancell
I love blog challenges. I love the push that they give me to write things that I might not normally take the time to write about. I have hosted a blog challenge before and enjoyed it so it's time for another one. I feel that it is easier to join a challenge when you are given prompts of what to write each day. so I have put together a prompt for each day in April that you can write a post on.  Now keep on writing any other posts you would normally write, I have weekly series that I'm going to continue doing during April as well. I just really encourage you to push yourself to write as many days of the challenge as you can. I will also be including a linkup under my post each day so that you can link up your own post and we can all visit and encourage each other to keep writing.  Some prompts are going to be easier than others but I think life is best when you are pushed outside of your comfort zone. So really challenge yourself to be open and honest and write your truth. I know some will even challenge me but that's good. Some of my favorite posts ever have been ones that were a challenge to write.
Here are the rules:
1. There really aren't any rules. If you miss a day, you can make it up or skip it. The blog police will not come knocking.
2. I will be including a linkup option at the bottom of my post each day, so you are welcome to leave your links here for others to peruse, as well.
3. You can still post other things every day, too. I plan to do normal series posts and stuff.
4. I'd seriously love you if you also include the "blog every day in April " button (below) either on your sidebar or at the end of your posts, but again, the blog police will not come knocking. My main goal here is to get us all back to the basics of blogging, not to gain a million new readers (though I wouldn't mind that).
5. Here are the topics. You can be as creative and awesome or as boring and bland as you like with these. Take 'em and run with it. Use creative post titles. Interpret each "prompt" however you like. There's no wrong way to do it. Have fun.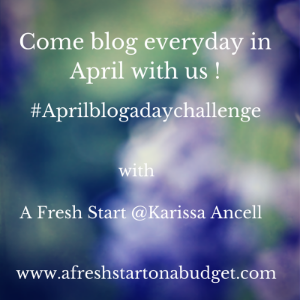 So here are the prompts again.
1. An intro and tell us something that makes you smile
2. 20 words that describe me
3. ten things about you
4. One of the last times I cried was
5. Something you never tire of
6. Something that makes me crazy
7. 3 bloggers I wish I could meet
8.  I am an expert at
9. Dear future me
10. A How To Post
11. What do you have in your purse
12. Something you feel strongly about
13. The last great book that you read
14. A habit that I wish I could break
15. The worst day of my life
16. Something I'm really struggling with
17. I never thought blogging would…
18.  This makes me crazy
19. The best advice I've ever been given
20. Want to know a secret
21. A letter to your 13 year old self
22. A favorite memory I have
23. One thing I'd like to be better at
24. My favorite quote and why
25. Some of my favorite posts I've written
26. If I could relive one day it would be
27. My best/worst traits
28. If I were President
29. My childhood was?
30.  Something I learned recently
31.  What I want to accomplish this year
So I hope you will join me for this fun challenge starting next Wednesday April 1st. Let's all do the full 31 days and share this post with your readers and followers so we can have as many people as possible joining in on  the linkup . I'm so excited for this blog challenge to start.