Welcome to day 10 of my blog challenge. I am posting late today but I'm here now. These allergies are trying to kill me and I went to bed with a horrible headache and have had one all day today. I wish for today's how to post I could tell you how to get rid of headaches but I don't have any secrets there. Just medicine, fluids and sleep and hope for the best. So like I just mentioned today's prompt is a how to post. So here are my five tips on how to appreciate life more  and be happier.
1. drink water- I'm not perfect at this but so much better than I use to be. It does help the quality of my life when I'm hydrated. I feel better and look better when I've drank enough water
2. be grateful. When things seem rough or are not going your way it's great to remind yourself of 3 things you are grateful for. It will help keep things in perspective.
3. get sleep. Sleep is so important and such a crucial part of having a good quality of life. Make sure you get a good night sleep each night and if you need it then let yourself nap on occasion.
4. entertainment. Whatever it is that is entertaining for you. Watch TV, movies, reading, internet, spend some time each day doing something you enjoy. Life is too short to only work and do chores.
5. choose who you spend time with wisely. There are going to be people in your life both family and friends that are going to do your life more harm
then
good. Don't be afraid to cut your losses, there are some relationships you just don't need. You have to put your own
well being
ahead of these relationships so that your life will be more enjoyable.
So there is my how to, what can you share with us.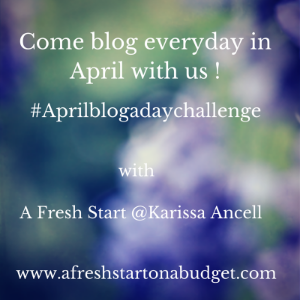 So now it's your turn to share your post, link up everyday in April