We may earn money or products from the companies mentioned in this post.
Last Updated on July 2, 2019 by karissa ancell
  It's the weekend! Don't really have plans but it's still fun! Also it's day 11 of the
blog challenge
, today's prompt is to share what's in your purse. 
 Here is my purse, I switched to a smaller a purse and it's nice not carrying as much around anymore. So here's what I have.
1. sunglasses
2. wallet
3. keys
4. pill bottle I keep advil in it.
5. one children's pill for Bella
6. A pen
7. my husbands Tootsie Roll
8. Bella's Easter card
9. Bella's Easter Egg
10. 5 chapsticks and a lip balm. (I'm an addict)
11. a tampon
12. a bunch of mints.
13. There was also trash which I threw away
14. Also my cell phone which I used to take the photo.
So not super exciting stuff but it's what I've got.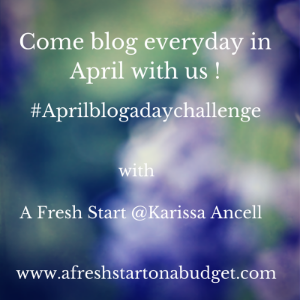 So now it's your turn to share your post, link up everyday in April