We may earn money or products from the companies mentioned in this post.
Last Updated on July 2, 2019 by karissa ancell
So today's post is supposed to be about something I feel strongly about. This is a tough one for me not because I don't have things I feel strongly about because I do. I have a lot of things I feel strongly about but I try not to offend people on my blog so I avoid controversial topics or sharing my thoughts on topics that might offend people if they believe something differently.
So here is my post. I very strongly believe in making choices that best work for you and your life. The choices I make for myself and my family and when I need to make a decision I do my research and try to figure out what would be the best for us. An example of this is my choice to breastfeed my daughter. I really believe that it was the best for my daughter and although it was a lot of work in the beginning I believed in my choice to do it so I did everything I could to stick with it and ended up nursing her for about 15 months.
From day one
to  15 months
On the other hand I was aware that not everyone is able to nurse, that even though I might want to my body might not allow me to. So I have no judgement for those that don't nurse. I think it's best if you try to nurse but as long as you are feeding your baby it's not my business how you choose to do so. I was formula fed and turned out alright as well as millions of others so I try not to be judgmental about those that bottle feed. Like I said as long as your baby is healthy and fed then that is what works for you.Now if you aren't feeding your baby or neglecting their health then I do judge you and I hope you get caught and your child gets taken away.  I pretty much feel that way with most things. As long as you are taking care of yourself and your family and not harming anyone then I think that most things are fine. I have my way and my beliefs but as long as you aren't hurting anyone or yourself then you can do things your way.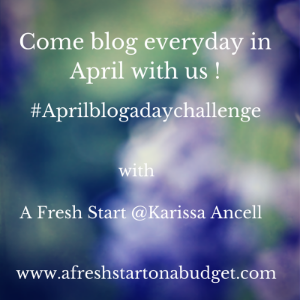 So now it's your turn to share your post, link up everyday in April