We may earn money or products from the companies mentioned in this post.
Last Updated on September 25, 2016 by karissa ancell
Today is one of my favorite days of the challenge. Today IO want you to share a great book you've read. Even if it's an old book review link it up and share. I love finding new books to read.  I've been reading a lot lately but the book I want to share with you is
#Girlboss
by Sophia Amoruso.
I didn't know anything about Sophia or her business Nastygal but was very interested in learning how someone went from unemployed to owning a multi-million dollare business in just a few years. I knew she would be full of such great wisdom in her book and had to read what she knew.
I was not disappointed the book was great and her journey from rebel youth needing to find work to get insurance to starting a small business on ebay in her home.  To running the huge hundred employee company she is in charge of now. She had great advice and words of wisdom for women in business or who are starting their own businesses.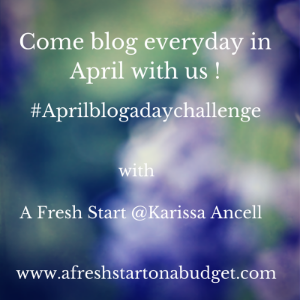 So now it's your turn to share your post, link up everyday in April