We may earn money or products from the companies mentioned in this post.
Last Updated on September 25, 2016 by karissa ancell
We are almost half way done with this
April Blog Challenge
, again this month is going by so fast. If you haven't linked up a post on any day so far no problem, today can be the first day. There are no strict rules to this challenge and if you are able to join now then awesome and welcome.
So today the prompt is A bad Habit I wish I could break. Well there is a habit I know I should break and it would be best for me to break. That would be my Dr. pepper habit. I have a crazy bad Dr. Pepper habit.
The thing is that I really don't want to stop drinking it so I don't. I love drinking soda and I try harder now to drink more water to balance it out some but I still want the soda. I've been doing this so long and I love it. I feel like Dr. Pepper is a part of my identity at this point.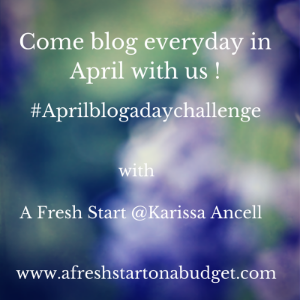 So now it's your turn to share your post, link up everyday in April