We may earn money or products from the companies mentioned in this post.
Last Updated on June 28, 2019 by karissa ancell
I've made it to day 15 of the
blog challenge
and am half way done now with out missing a day. I hope you will join in and link up today or any future days of this challenge.
 So the worst experience of my life was having a stroke and that date was February 2, 2010. The thing is that actual day wasn't really that bad. I woke up and tried to get out of bed, I fell down on the floor. I thought I was just tired because the stroke took away sensation so I was in no pain. We had moved the day before so I thought my body was fatigued and had no idea there was anything wrong. I was speaking funny and my husband was concerned but it didn't sound funny to me so I thought he was being dramatic. He called his mom which I though was dumb because we were adults and I felt fine. Then he called my parents who were about half an hour away and told them he was going to probably call 911.
I thought he was being really dramatic now. I just wanted a soda and some time to wake up. So he called 911 and I was sure that they would realize I was fine and my husband was crazy. They came and wanted to take me to the hospital because I was clearly having a stroke. Which was weird because of my age. Then they put me in the ambulance which was scary because I'd never been in one and I wish Blake could have gone with me but we had Bella so he had to stay with her and follow us. They gave me an IV which was upsetting because I have needle phobia and I didn't have Blake. I was sure once we got to the hospital they would realize that everyone was crazy and let me leave. I remember being there for a little bit I heard the word stroke but didn't really understand how it applied to me. I just wanted a Dr. Pepper and to go home. No one would give me one and that annoyed me. Then I woke up and it was a week later. I had a huge seizure and it made me basically unresponsive for a week.
The recovery and lasting effects of the stroke were much worse than the actual stroke itself. So it was kind of both. The actual day wasn't the worse but that day caused a lot of struggle and grief in my life for years to come.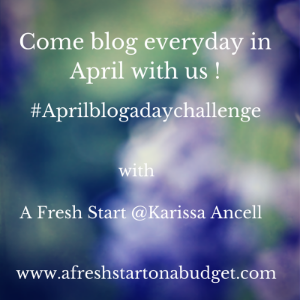 So now it's your turn to share your post, link up everyday in April