We may earn money or products from the companies mentioned in this post.
Last Updated on June 28, 2019 by karissa ancell
 Welcome to Day 16 of the
blog Challenge
, today I want to know what you are struggling with. I use to obsess and worry and struggle with a lot of things but after going through a lot of therapy after my stroke I learned how to overcome that tendency. Sure there are things in my life that aren't great and I wish were better but I don't let them overwhelm me anymore. I just don't see the point in it. I've been through worse and survived so not much can really throw me. I love feeling this way and having this outlook on life now.
It drives my husband crazy. He will be stressed about bills and our budget and even though I am aware that there might be a problem I don't let it be a struggle or a big deal to me which makes him feel like I don't take it seriously. I do but stressing out and getting upset isn't going to help me or change anything so why create drama in my life.
Right now my struggle would be trying to house train this little guy to go to the bathroom outside. He will get it at some point but he is a lot of work right now. Luckily this struggle is so worth it.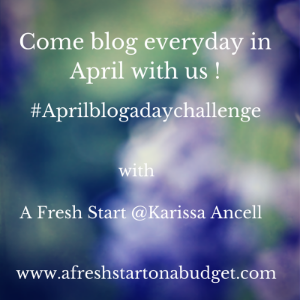 So now it's your turn to share your post, link up everyday in April