We may earn money or products from the companies mentioned in this post.
Last Updated on June 28, 2019 by karissa ancell
 So welcome to day 17 of the
blog challenge
. today the prompt is I never thought blogging would which is going to be a fun prompt. So here is my answer to the prompt for today.
I never thought blogging would become a part of my life and such a passion of mine. I started and didn't really know how long I would stick with blogging. I have a habit of not sicking with things but here I am almost three years later and this is still such a part of my life. I never thought this would become a starting point to what I want to do with my life. Now I know how great the online community can be and now I want to keep growing and turn the passion I have found in blogging into a career.
This has become such a great experience and I never thought that blogging would become such a big part of my life and so important and even though it takes a lot of my time I don't mind the time though because I enjoy learning about all things blogging. I never expected it to become such a passion for me. This shows me that I am doing what I am meant to do and is something I haven't found in anything else I've tried.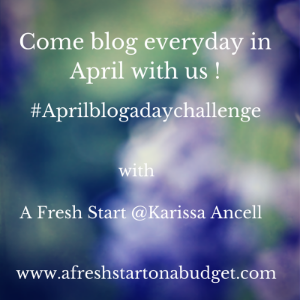 So now it's your turn to share your post, link up everyday in April