We may earn money or products from the companies mentioned in this post.
Last Updated on June 27, 2019 by karissa ancell
 Welcome to Day 19 of my
blog challenge
, I'd love you to link up a post and share with us. I've written about good advice I was given from a parent when I was a preschool teacher even before I had children of my own. I taught 3 year olds and one little girl had lost her father in a car accident the year before. I had a project for my class that we needed family photos for and her mom brought in copies on one picture of their family and a picture of the daughter and her mom and a copy of one with the girl and her dad.
Her mom said they had hardly any family photos because their daughter was so young when the dad died and they obviously didn't expect that to happen. So I promised myself that when I had a child there would be lots of family photos and started taking them when Bella was three weeks old and make sure that at all celebrations we get a shot of the three of us. I'm so grateful I did that because my husband was in a car accident when she was two and I had my stroke when she was three. Luckily we all survived but I am so glad to know that if one of us hadn't we already had a lot of photos and many of us all together. Here are a few of them. It's advice I really took to heart and learned from.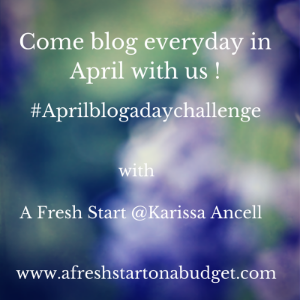 So now it's your turn to share your post, link up everyday in April