We may earn money or products from the companies mentioned in this post.
Last Updated on May 27, 2020 by karissa ancell
First I want to Thank those of you who linked up yesterday and those of you linking up with us today. As many days as you can linkup is fantastic, I'm not the blog challenge police and I will not be coming after you. This is for fun and I want you to post as often as you can and on the prompts that you want to try.
Today's prompt:  20 words that describe me Remember there are no rules so they can be words, phrases. However you want to do it.
1. loyal (I stick with things and people through good and bad)
2. TV addict (no shame I am what I am)
3. reader
4. mother
5. wife
6. blogger
7. daughter
8. learner
9. sensitive
10. compassionate
11. survivor
12. Laundry hater
13. Dr. Pepper addict
14. pet lover
15. entrepreneur
16. Aunt
17. inspiring
18. motivating
19. amateur photographer
20. friendly
 So now I want to get to know you. So write up your post and link up. I can't wait to read them!  Also if you could  please add my button to your post so your readers can come over and join the fun!
Tomorrow's prompt: 10 things about me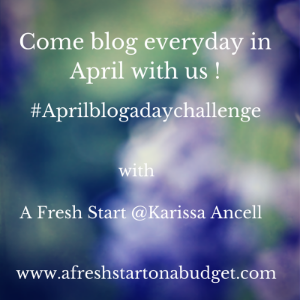 Link up everyday in April! [inlinkz_linkup id=512365 mode=1]