We may earn money or products from the companies mentioned in this post.
Last Updated on June 27, 2019 by karissa ancell
I know you feel like you are so grown up but there is so much to learn and your life will change and grow so much over the next fifteen years and what you think you know now is just such a small piece of it.
If I could really tell you anything from this point of being in my 30's it would be to slow down and enjoy it. Life is going to fly by in a way you just can't even begin to believe. Your going to be in such a hurry to grow up but try your best not to be. You will grow up fast and you will wish you could have taken these milestones in your life slower. It's a -good life and there is so much happiness and joy to come so take your time. I look back on when Blake and I were dating and first married and I wish I could have those care free and fun times some days. Also those days of being pregnant and having a newborn. Those were hard times but I wish I had stopped and took them in a little better and slower.
Also remember to trust yourself and your instincts. Sometimes you won't want to but in the end when you do things turn out better. So trust yourself. You are the best judge of you and your life and don't let other people let you doubt yourself.
You are going to do amazing things and grow and change.
So that is what I wish I could tell the young me,What would you tell your 13 year old self?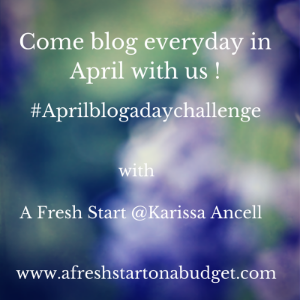 So now it's your turn to share your post, link up everyday in April