We may earn money or products from the companies mentioned in this post.
Last Updated on June 27, 2019 by karissa ancell
 So today's
blog challenge
prompt is to share something that you wish you were better at. I think we all have things we wish we were better at.
There are quite a few things that it would be nice to be better at. I'd like to be a more forgiving person. I'm someone that tends to hold a grudge and it's a struggle for me to forgive people who I  feel have wronged or betrayed me. I know it hurts me to hold on to anger it's just hard on me to let things go.
 Another thing I wish I was better at was keeping up with housework, especially laundry. I hate laundry and it never seems to  be finished no matter how hard that we try. Some days and weeks are better than others but I just can't seem to make it a regular habit.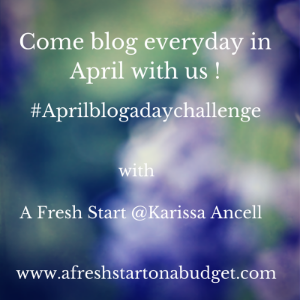 So now it's your turn to share your post, link up everyday in April