We may earn money or products from the companies mentioned in this post.
Last Updated on October 7, 2016 by karissa ancell
Welcome to Day 24 of my
blog challenge
. Today I want to know your favorite quote. So I hope you will link up a post. Oh my goodness if you know me and have been reading my blogs you know that I love quotes. They are one of my favorite things. If you want to check out a lot of quotes then check out my
Pinterest
page. I have a lot on there. My favorite quote has always been this one.
I love this quote so much because when things are bad especially hen they are really bad it can seem like life wont go on but somehow it does and it's good to remember that. When I had my stroke I thought life would never go on.It felt like my life was over. I felt the same way when my grandpa died it felt like life wouldn't go on but Robert Frost was right life does go on.
I just find this to be such a powerful quote and it has always been so true. I heard this quote years ago and it has always been my favorite even though I love so many quotes for so many reasons.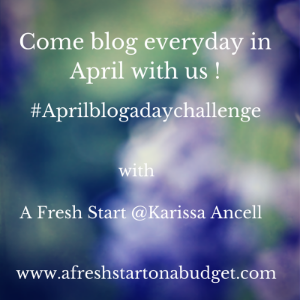 So now it's your turn to share your post, link up everyday in April