We may earn money or products from the companies mentioned in this post.
Last Updated on October 7, 2016 by karissa ancell
 Welcome to day 26 of the
April blog challenge
am I the only one who can't believe this month is almost over? Today let's write about and share a day we would like to relive.
One of the best days of my life was the day that Bella was born but I don't know if I'd relieve that day over again just because it was a lot of work. Although it was worth it and I'd go through labor again if we have another child. I didn't really mind labor. I spent months being afraid of labor. I have a phobia of hospitals and needles and especially of needing to have a c-section because that would mean surgery. I am a little less fearful of hospitals and needles after my stroke but at the time of her birth I was scared. I was lucky and her birth was pretty simple, she was a little early so smaller than I was expecting. I was almost 10lbs at birth and the average baby in my family is usually around 9 lbs but my cousin was over 11lbs. So I was expecting a big baby. Her being early was helpful and she was just under 7lbs which in my family made her seem like a preemie in size.
I also loved that day because we didn't find out gender till birth so it was a surprise we had been waiting for. I didn't have any feeling either way and didn't really have a preference. I could imagine life with a girl or a boy. Everyone thought I was having a boy though. So it was exciting to find out if people were going to be right or wrong. It was great to find out she was a little girl.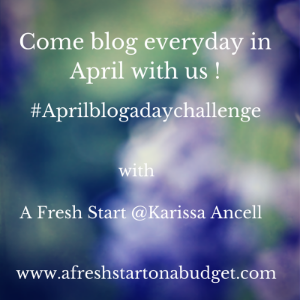 So now it's your turn to share your post, link up everyday in April