We may earn money or products from the companies mentioned in this post.
Last Updated on June 27, 2019 by karissa ancell
Almost done with the
April Blog Challenge
. I need to start planning out May and June on the Editorial Calendar. Maybe I will do that later today. First on to day 28. If I were President. I actually would never want to be president. I feel like it is such a hard job and you can never please everyone and no matter what you do so many people are going to think you are wrong and hate you. I couldn't handle that.
If I were to become president though and had the power to create some laws of my own here is what I'd do.
1. 4 day work weeks leaving 3 day weekends. People work too hard and too much.
2. Longer maternity and paternity leave for new parents.
3.  Animal cruelty will not be tolerated and anyone who does so will experience extreme punishment.
4.  All schools will be required to have strict and a non negotiable policy on bullying. We will do whatever t takes to stop bullying and hopefully stop the attacks on children and teens by their peers.
5. I would legalize same sex marriage in all states so that everyone who wants to be married can do so.
6. As a personal project I would get someone to make Dr. Pepper that tastes exactly the same and has no calories. There is Diet Dr. Pepper but it doesn't taste the same. I'd make it so it does.
7. Mental health would be taken more seriously and affordable help and treatment options would be made available to those in need.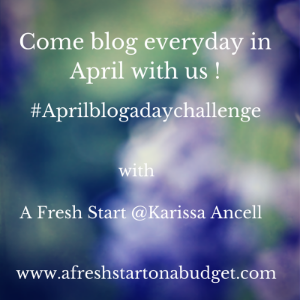 So now it's your turn to share your post, link up everyday in April