We may earn money or products from the companies mentioned in this post.
Last Updated on October 7, 2016 by karissa ancell
I'm skipping day 29 on the schedule. I messed up and put 31 prompts in a 30 day month. So I'm doing 30 and 31 instead of 29 and 30. So we all mistakes sometimes but I wanted to keep up with the blog challenge so today we are doing the prompt something I've learned recently.
So lately I have been not necessarily learning but relearning how to take care of a puppy and all the work that goes along with having a puppy. We got our first dog 11 years ago so it has been a long time since we have had a puppy. Now we have an almost 12 week old little guy named Groot, yes named after the Tree from Guardians of the Galaxy. He's a puggle and our little man. So take a look at him, he's worth all the work.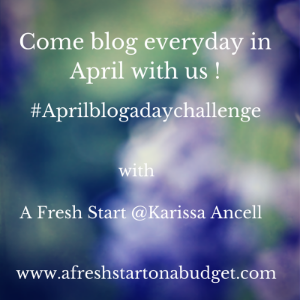 So now it's your turn to share your post, link up everyday in April