We may earn money or products from the companies mentioned in this post.
Last Updated on June 28, 2019 by karissa ancell
 Welcome to Day 3, if this is your first day joining us, welcome jump on in. There are no rules I just hope you will link up as often as you can. Today's prompt is 10 things you might not know about me. If you're a long time reader of my blog you probably know a lot, I'm a pretty open person but I'm going to try to come up with some new stuff.
1. At the advanced age of almost 22 I was the oldest person in multiple generations when having my first child. My mom was 20 when she had me, her mom was 20 when she had my mom and my great grandma was 20 when she had my grandma who was her 2nd child.
 so young!
2. I am terrified of snakes and spiders. It's Rattle snake season and part of me just never wants to go outside, even to the car. They could be anywhere.
3.  My least favorite food is bananas. I have never liked them. Don't like them even if they are mixed in things like smoothies, don't like the smell. Wish I did because they are so good for you but yuck.
4. I miss my grandpa and think about him probably everyday. He's been gone almost three years and I didn't realize how big a role he had in my life till he was gone.
My papa with me
My papa with Bella
5. At my ten year high school reunion. My husband and I won longest married. We got married 2 years after I graduated.
6.  I am equally introverted and extroverted. Even according to psychology tests. It really depends who I'm with and the situation. So some people think I'm really shy and others think I'm super chatty.
7. My first date with my husband was to the movies to see the Sixth Sense and he told me the ending during the movie. Thanks for that.
8.  I love that Netflix has standup shows now. I've watched all of Aziz Ansari's and I'm going to watch Kevin Hart's. I also watched Dane Cook's, it's just fun to watch at night when Bella's in bed.
9.  Some of my favorite things: dr. pepper, chapstick, mugs, Pink stuff
10.  I can't believe that next year I will have been a mom for a decade. She will be 10 in October of next year. How did this much time pass already?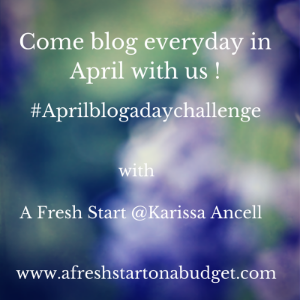 So now it's your turn to share ten things about you, link up everyday in April
[inlinkz_linkup id=512617 mode=1]