We may earn money or products from the companies mentioned in this post.
Last Updated on June 28, 2019 by karissa ancell
Welcome to day 4 of my challenge. If this is your first time linking up in the challenge welcome and I'm glad you are here and joining up. If you are back again then I'm glad you are returning to link up again. Today's prompt is to share something that makes you cry.
I am a sensitive person and always have been so there are a lot of things that make me cry and that I have cried about. Some people aren't criers and I know that I am. I tend to cry a lot at movies or watching TV shows. I get invested in stories and when it's a story especially those involving death of children or of a person in a relationship dying I am a mess.
The last time I got teared up though was earlier this week. My sister was taking her daughter to school and on their way they saw their cat lying on the side of the road. My sister pulled over to check to see if it might still possibly be alive but it wasn't. So thinking of my poor niece losing her cat made me tear up. They had just put their dog to sleep a week earlier so they lost two pets in a week. I'm very sensitive when it comes to animals dying. My cat and dog are both getting older and I know there will come a time that I lose them and it makes me sad. My dog is starting to get up slower and walk slower so I can tell she's really aging, she's about 11.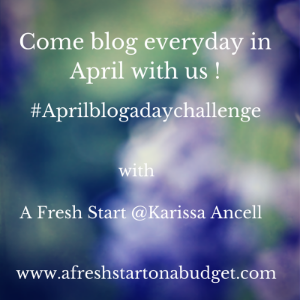 So now it's your turn what makes you cry, link up everyday in April