We may earn money or products from the companies mentioned in this post.
Last Updated on June 28, 2019 by karissa ancell
Hello and Welcome to Day 6 of the
April Challenge.
  If you've been linking up already welcome back and I'm glad you are participating. If you are new to the challenge I'm glad you are here and you found my challenge. Today's blog prompt is simple I just want to know something that makes you crazy.
So lots of things make me crazy but I'm trying to think of something that really makes me crazy. One thing is when we are out in public with our daughter and people start cursing really loudly in ear shot of her and other kids. I get that some people aren't use to being around children and know how to watch their language. It's just the people that start saying like the F word or something like it  every second or third word. Try to watch your language a bit when kids. I try not to take my daughter to places where there will be a lot of yelling or language but if I'm at a family friendly place I should not have to shield my child from inappropriate behavior. It's not as bad now that she's old enough to know which language to use and not use. It was really hard from 2.5 till 5 though when she wanted to repeat things.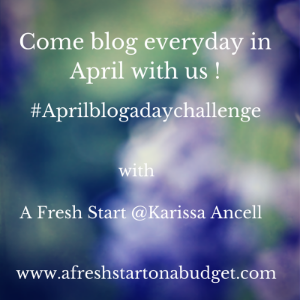 So now it's your turn to share your post, link up everyday in April