We may earn money or products from the companies mentioned in this post.
Last Updated on June 28, 2019 by karissa ancell
  Welcome to another
challenge post
, it's day 8 of 30 and I'm still going strong. I hope you will link up today and remember to share your post. Today I want to know what are you an expert at? It can be anything that you think you are particularly experienced or good at. Not necessarily an actual expert in.
So I'd say I'm kind of good at a lot of things but it's hard to really declare yourself an expert. So even though I made this challenge and these prompts know that some of them are quite challenging for me as well. So here are two things that I'd consider myself good at, very good even at.
I'm good at Pinterest. I've read up on it a lot taken a course and am always trying to learn more about it so I can grow my Pinterest and drive traffic to my blog through it. If you'd like to know some of what I've learned about Pinterest you can check out my posts on the subject
here
 and
here
.
I also would say I'm pretty good at marriage. I don't think anyone can be an expert at marriage because no two marriages are the same and things are always changing in our marriage like all marriages. I'd say I have to be pretty good at marriage though to make it work after more than ten years. Especially with all the things that have been thrown at us over the last decade. I'd say if we can make it through what we've been through then we are experts at being married to each other.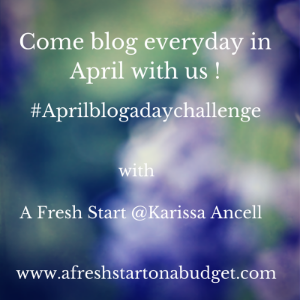 So now it's your turn to share your post, link up everyday in April