We may earn money or products from the companies mentioned in this post.
Last Updated on June 28, 2019 by karissa ancell
Welcome to
blog challenge
Day 9. I hope you will link up your posts and share them with me.
Today's prompt is dear future me. So here we go.
Dear future me,
I don't know what life is going to throw our way over the next few years and decades. I know that there will be both good and bad though. I just hope that we get more good. We can make it through the bad though. Remember that when times are hard there is nothing you can't get through. I've been through more than my fair share in the first 30 years of my life but that only means that I know what I'm capable of. So me in the future don't forget that we are a fighter and we will get through whatever hurtles life throws our way.
Another thing I want to tell future me is to remember life goes by so fast. I already see that now and how much of my life has passed by and how long I'be been married and how old Bella is. So enjoy the moments. Even the hard ones. Enjoy this life because it goes by so fast and you wont get another chance to do it over.
I just hope to live in a way where I can be proud of the life I've lived and have as few regrets as possible. I want to enjoy my life and be happy and hope that I continue to remember that as I get older.
Love for now,
current me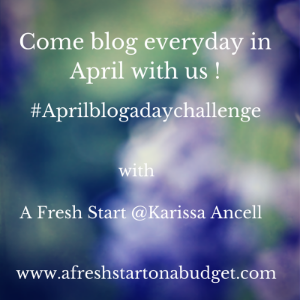 So now it's your turn to share your post, link up everyday in April