We may earn money or products from the companies mentioned in this post.
Last Updated on July 1, 2019 by karissa ancell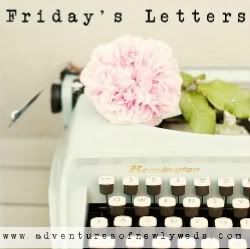 Hello Friday! I've been on vacation all week but we head home tomorrow and Monday starts the real world of school for Bella and me and work for Blake, but for now here are some Friday letters
Dear drive home, please seem to go by super fast.  Dear Christmas Surprise for Bella,  please let everything work out according to my plan. Dear John Hughes,  your movies came out when I was born but I still love them and you were amazing ( watched the Breakfast Club  last night, love that movie)   Dear DVR, please don't fill all the way up and start deleting things before I get home Sunday.  Dear November, please I beg you be calm and less stressful than October, October was fun but a lot of work and Stress.  Dear Blog,  I didn't think you would grow this well and it is awesome. Over 300  GFC followers since I started in  June, almost feeling ready to start taking on sponsors.