We may earn money or products from the companies mentioned in this post.
Last Updated on May 24, 2020 by karissa ancell
One of my favorite bloggers Erin over at 
Living in Yellow 
is having a pretty awesome Link up
 and I decided to join it.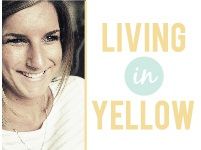 It's time to answer some personal questions, Here I go
1. If you could do one thing differently in your life, what would it be?
In my  teens, early 20's I would have not rushed things. I started dating my husband when I was a sophmore and he was a senior. Then we got married when I was 19 and he was 22. I had my daughter when I was 21. I don't regret getting married or having my daughter at all but I wish I would have enjoyed those last few years of not having responsibility more and slowed things down a little. 
2. Where do you see yourself in five years:
I hope to be happy. I want to be a good wife and mother and enjoy my life. I want to not be afraid to take risks. I want to have moved to a new house. 
3. Do you honestly want kids:
Well I have one so the answer is clearly yes. I want more. I don't know when or how many but I want more kids. I've always wanted kids and couldn't imagine not being a mom
4.  What has been the best moment of your life so far:
The day I had my daughter. Getting to meet her was incredible. I have great moments a lot of the time though and am trying to learn to enjoy the good small moments
5. What is your life theme song?
I don't really have one right now. When I'm going through challenges in life I will relate to songs more but at times like now when I'm kind of coasting I can't think of anything
6. What is one thing you have yet to accomplish that you want to do before you die?
So many things. The ones that come to mind first are. I really want to adopt a child at some point. Also I really want to travel, especially to Italy and France.
7. If you could choose one thing to be known for, what would it be?
Being strong. Not physically strong but strong when it comes to overcoming obstacles and taking chances. 
8. If you could do anything you wanted right in this very moment (no consequences, no fear, etc), what would it be?
Just pack up my family and go on an adventure somewhere. No thinking about making plans or what it would cost just go. 
9. What has been the most challenging moment in your life?
Recovering from my stroke. The actual stroke wasn't difficult I was unconscious. It was being in the hospital, all the tests and the fear of the unknown that was hard. The second would be when my daughter was molested by a kid in her class. All my mama bear instincts kicked in at once and it took all I had to stay calm and focus on solving the problem. 
10. Summarize yourself in one word.
changing. 
Those are my  answers to the personal questions.