We may earn money or products from the companies mentioned in this post.
Last Updated on July 1, 2019 by karissa ancell
i'm Linking up to Sunday Social again this week. The theme for this Sunday's questions is all about childhood.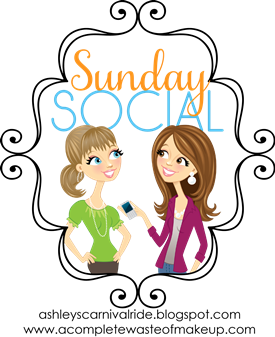 1. What do you miss most about being a kid?
Having other people be responsible and not have it fall on me. A time when there was no bills, a clean house not done by me and meals cooked. 
2. Did you have a nickname growing up? What was it?
Not really. On occasion my parents called me crazy Casey because Casey sounds similar to Karissa. It wasn't used often and not used by anyone by my parents. 
3. What was your favorite thing to do at recess?
I remember liking tether ball in elementary school. Wasn't any good at it but liked it. 
4. What did you want to be when you grew up?
Career wise was never really sure, still not real sure. I knew I wanted to be a mom, known that since I was probably 3. 
5. What was your favorite toy?
I liked barbies a lot. My mom built my sister's and I a barbie house for Christmas one year. 
6. What is the funniest thing you did as a kid that your parents still remind you about?
I loved putting olives on my fingers as a kid. One time I saw girls at a restaurant all dressed for prom and my parents told me what prom was and I told them when I went to prom I was going to put olives on my fingers. Somewhere there are pictures of me dressed in a prom dress with olives on my fingers at my parent's house before prom.