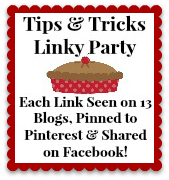 Hi, everyone!  It's time to party!
How is your week going?!  How are you handling the time change?
So far so good here. My daughter loves it because it means more time to play outside after school before it gets dark.
With her playing more I have been finding time to do a little spring cleaning around the house, though.
I can't wait to see what you all share at this week's party – so much inspiration each week!